So, I know it's Halloween and that most people are into eerie, scary stuff book wise, but that's just not me. I like gritty tales of adventure and heroism, but I also enjoy unicorns and magical rainbows of happiness and joy, so today is not usually my deal with all the creepy movies and books that people love. Due to this time of the year, a lot of bloggers that I following have been reading and recommending more Gothic or horror-based novels, and although I know I probably won't end up reading those books, it makes me really happy to see people sharing their love of books with other, whatever genre it may be, and it kind of inspired me to make a post of book recommendations too!
Obviously my likes don't read coincide with this particular holiday or the horror/zombie/thriller genre, but there are always exceptions, and here are mine!
"The Madman's Daughter" by Megan Shepherd.
5 out of 5 stars.
I LOVE "The Madman's Daughter" so  much!! It was really surprising to me because normally I don't like books like this, but this story was absolutely perfect and just eerie enough to make it feel different from the others books I'd read. I also liked the fact that it was Gothic-horror, so it felt like it had more of the eerie tone of "Jane Eyre" in addition to "Doctor Moreau's Island." The rest of this trilogy was also really great, but "The Madman's Daughter" had the perfect amount of mystery and bittersweet undertones that it is still my favorite. It was a very good Gothic book that I like to recommend to anyone who's looking for a darker historical fiction book.
"A Mad Zombie Party" by Gena Showalter
4 out of 5 stars.
This was by far my favorite book in Gena's "White Rabbit Chronicles"! I loved Camille as the main female because she was really tough, but she also had a good heart and sacrificed so much for her brother River. I also really liked Frosty as the main male character, and it was nice to get two perspectives with this book rather than just one. "A Mad Zombie Party" was a fun ride, I loved Frosty and Camille, and Gena wrapped up the series pretty well. I liked this book a lot!
"Marie Antoinette, Serial Killer" by Katie Alender
4 out of 5 stars.
THIS was a fun read! There was not real mystery to it, but I loved that "Marie Antoinette, Serial Killer" delivered a fun adventure, taking me through the streets of Paris; it also had a fairly good moral to it by the end, so that was cool. It was a very fun and cute book, and I loved the nice Parisian boy who kind of became Colette's friend. He and his family were so nice!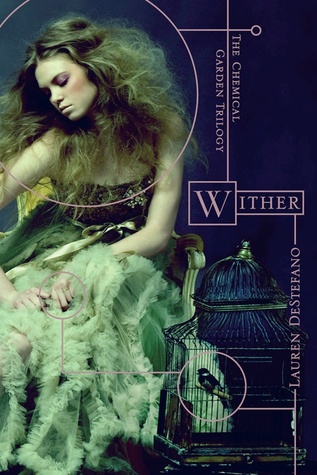 "Wither" by Lauren DeStefano
4 out of 5 stars.
"Wither" was a bag full of crazy and it ended up being a little creepy at times. I loved this book when I read it back in 2012, and it might just be crazy enough to appeal to others on a day like this.
–
Alright, well those are about all I have in my personal collection to recommend to you in the Gothic, horror, and zombie genres! Thanks for visiting me and have a good weekend!